Few Things Feel as Good as a Good Nights Sleep!
Memory foam and Latex beds represent one of the latest technology advancements in the bedding industry.  Memory Foam was first designed by NASA in the late 1960s as was used as a shock absorbing material for airplane seats.   Is is made from a material called viscoelastic which is both soft and energy absorbent. In response to heat and pressure, Memory Foam will evenly distribute weight by molding to the body. When the pressure is removed it returns to its original shape.  The unique properties of memory foam make it extremely comfortable and a perfect shock-absorbing material for bedding.
Do You Get a Better Nights Sleep on a Memory Foam Mattress?
Expert independent studies are not readily available for several very good reason. Independently conducted sleep studies are expensive, and memory foam is relatively new to the industry, so it hasn't been well studied. In addition, any study of memory foam would be subjective to the nature of sleep, which would make it extremely difficult to measure. Having said that, one can only point to the thousands of people who rave about the benefits they receive from sleeping on a memory foam bed.  A better sleep leads to a more productive day, clarity of mind and an overall sense of well-being.  Sleep requires relaxation. When pressure on the muscles is evenly distributed it allows the body to fully relax. Memory foam accomplished this in a very natural way because it conforms to your individual body, reducing tension on pressure points.  No pressure points, no stress. No stress means a good nights sleep.
At the Mattress Liquidation Store we are proud to represent a full line of Memory Foam products from MLily. No need to pay the high price tag of name brands like Tempur-Pedic. Plus MLily Memory Foam is 70% more environmentally friendly using Aloe Vera and Castor Oil to replace most of the petroleum products.  For cooling MLily infuses its Memory Foam with Bambo0. The Bamboo is a large natural fiber that allows for air flow and provides a natural cooling property. Other beds are infused with Gel for cooling and still others use both.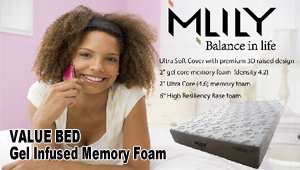 Value Bed: Get all of the benefits of Memory Foam plus the cooling of gel-infusion … all at a great price!
It offers 2″ of Gel Core Memory Foam in the top layer.
A 2″ of ultra core support memory foam layer.
The a full 6″ of base foam.
Full 10″ Profile makes this the most economical in it's class.
3D raised quilted top and a suede border running around the sides of the mattress.
The Value Gel Bed is available in Twin, Full and Queen sizes. Perfect for teens, young adults and the value conscious buyer.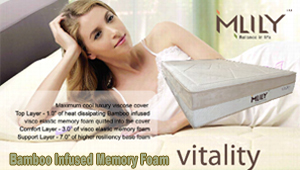 Vitality:  By far our most popular MLily Memory Foam bed! This bed compares layer-for-layer to the Tempur-Pedic Cloud Supreme. The only difference is the added cooling feature of the Bamboo and it's less than 1/3 the price of the Tempur-Pedic!
Maximum Cool Luxury Quilted Viscoe Cover
1″ Top Layer Heat Dissipating Bamboo Infused Memory Foam
3″ of Viscoe Elastic Comfort Memory Foam
7″ of High Resiliency Base Support Foam
Full 11″ Profile with Removable Cover & Sewn-In Handles
Compares to Tempur-Pedic Cloud Supreme.
Luxuriously Soft with Firm Overall Support
CertiPUR-US Foam, Sustainable Bamboo Fabrics & 10yr Warranty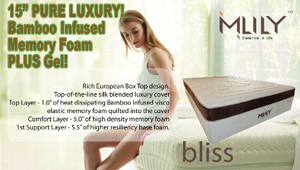 Grand Bliss:  Pure Luxury doesn't even describe this bed with its rich European box top design and top-of-the line silk blended luxury cover.  This bed compares to the Tempur-Pedic Grand Bed at less than 1/4 of the price.
1″ Top Layer Heat Dissipating Bamboo Infused Memory Foam quilted into the silk blend luxury cover.
5″ High Density Comfort Memory Foam
3.5″ of Comfort Support Base Reflex Foam
5.5″ of Higher Resiliency Base Support Foam
Compares to Tempur-Pedic Grand Bed.
Super Luxurious Soft Feel with Ultra-Firm Overall Support.
CertiPUR-US Foam, Sustainable Bamboo Fabrics & 10yr Warranty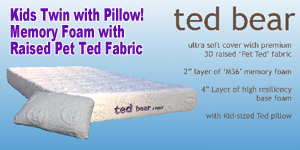 Kids Ted Bear with Matching Pillow:  This is as cute as cute gets! Kids will love gong to bed and sleep like a baby in soft comfort.
Ultra Soft Cover with Premium 3D Raised "Pet-Ted" Fabric
2″ Layer of M36 Memory Foam
4″ Layer of High Resiliency Base Foam
Includes Kid-Size Matching Pillow
Sure to be Your Kids Favorite Bed Ever!