The Ultimate in Comfort & Health!
An adjustable bed offers dual benefits in comfort or lifestyle as well as for your health. People who purchase adjustable beds for health reasons are often pleasantly surprised by how much they enjoy their new bed and people who purchase for comfort reasons find extra value in the health benefits they experience. So while the initial purchase can seem costly, the dual benefits of an adjustable add great value … because you can't put a price on comfort!
Lifestyle or Comfort Benefits:
Head Elevation: Makes watching TV, reading or even eating in bed so much easier.
Massage: Many Adjustable beds offer a head and and foot massage to ease tension after a long day or lull you to sleep.
Better Sleep: Raising the foot slightly of the adjustable bed allows your heart to work more efficiently for a more restful sleep.
Eliminate Snoring: Raising the head slightly (5-10 degrees) can reduce, even eliminate snoring!
Wake Up Fully Rested: Be more productive during the day, especially first thing in the morning.
Medical or Health Benefits:
Lower Back Relief:  Redistribute pressure across different parts of the body by adjusting your bed position.
Improve Blood Flow: Adjustable positions and massage features help to promote improved circulation and blood flow.
Acid Reflux Relief:  Inclining the body up to 40 degrees can prevent acids from migrating up into the esophagus.
Diabetes Relief: Improve blood circulation to the legs and limbs with adjustable body positions.
Reduced Swelling: Raising the legs above your heart can help reduce swelling build up in the body known as edema.
Asthma and Breathing Relief: Take stress off your lungs and breath easier. Sleep Apnea sufferers also report experiencing longer, more uninterrupted sleep patters.
Two Great Styles of Adjustable Beds!
The Mattress Liquidation Store offers a great selection of Adjustable Beds at even better prices. Our Adjustable Beds are available in Twin XL, Queen and King sizes. And, the iCare by Hickory Springs is even available in an XL Full, which is rare to find in an Adjustable Bed. Our Adjustable Bed frames can be easily paired with any of our Memory Foam mattresses, or any adjustable-friendly mattress.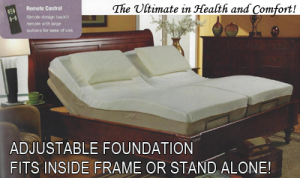 Pinnacle Adjustable Bed from Coaster
The Pinnacle Adjustable Bed from Coaster:  Made from re-inforced steel and slips easily into an existing bed frame or can be used as a stand alone. It features one of the quietest motors on the market with a stylish streamline design. It comes with 5″ legs that can be removed if you want to place the adjustable bed directly on the floor.  The massage feature is available on the head, foot or both and has three levels of intensity. The wireless remote has a simple design with large buttons and is back-lit for ease of use in the dark. Available in Queen or Twin XL.  Put together two Twin XL's and get a split King size adjustable for his and hers comfort.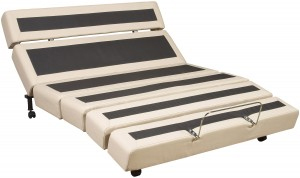 iCare6 Adjustable Bed from Hickory Springs
The iCare6 Adjustable Bed from Hickory Springs:  This exclusive design features 6 separate panels that can move and adjust independently for completely personalize sleep and comfort experience. This revolutionary adjustable bed was first introduced in October 2011 at the High Point Market show. The number 6 actually designates the number of movable panels. It is also available in a 3 and 4 panel models. Standard features include a wireless remote, full motion power base with body massage and wall-huger feature that keeps you close to your nightstand.
Aside from the independent movable sections the most notable features include: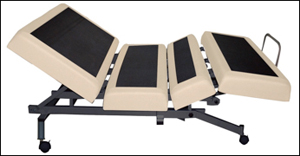 iCare4 Adjustable Bed from Hickory Springs
Lights under the adjustable give a clear view of the floor, acting as a night light when you have to get up in the dark of night.
Three pre-set positions on remote: Lounge, Inclined and Zero Gravity positioned pioneered by NASA for easier breathing.
Dual head and foot motion with exclusive head rest and foot lowering position.
Full body massage feature with wave massage adjustment on wireless remote control.
The iCare Adjustable bed  is available in a Twin XL (39″ x 80″), Full XL  (54″ x 80″) and Queen XL (60″ x 80″). It is rare to find the Full size in an adjustable bed. Perfect for someone who wants more space than a twin but has a limitation in room size.  Put two Twin XL's together and make a Dual Adjustable King size bed with wireless remotes operating separately, or together.